Charcuterie Boards 101. BC Wines, Local Cheeses with Butter and more. Guide by Jennifer Schell
BC Wine and cheese go together like peas and carrots. And like every great relationship when paired correctly, they will create the perfect marriage of flavours with each bringing out the very best in the other.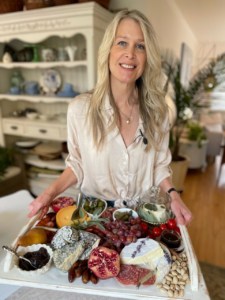 The holiday season is upon us and nothing beats a gorgeous cheese and charcuterie board to entice your guests. Food served on boards has been trending for the past few years and I love it but there is a new fad that has hit cyberspace – butter boards. Yes, it is just like it sounds, softened butter on a board but topped with yummy things and then served with bread to schmear. I'm in – but with a few thoughts…please make sure your wood board is food safe and that it doesn't have cracks to trap bacteria. All serving boards should be washed with hot soapy water, just like your other cutting boards. Or you could use a a pretty, ceramic tray for your butter board instead? If you are worried about the healthiness of consuming a massive amount of butter, you can use goat cheese. And my last point is to be mindful of double dipping if you are in a group (or double schmearing in this case). Although it seems that we are in the middle of a blissful break from the pandemic, one thing we have all learned is to mind our germs. OK, back to the fun part now.
For the butter board set out some good quality BC butter until softened. Spread it onto a small board or plate and sprinkle with delights. I am using Garlic Scape Salt from Farmer's Dotter in the Similkameen, organic lemon zest, lemon thyme, chopped chives and fresh nasturtiums with a drizzle of local honey. Sky is the limit on toppings – from chopped figs to nuts and lavender – whatever tastes good with butter is a go.  As mentioned, you can do the exact same idea but using softened goat cheese.
Butter board and all things BC buttery….
Pair with: Joie En Famille Reserve Chardonnay

The "En Famille" Reserve Chardonnay is made from their most prized, old vine block of the Con Vida Vineyard on the Skaha Bluff to achieve a balance that is intensely ripe, mouth-watering, fresh, and savoury all at once. The wine is barrel fermented with primary puncheons with only a judicious amount of new oak used.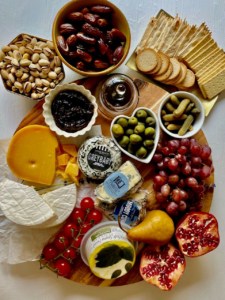 Now for the BC cheeses…
Luckily here in beautiful BC we have a wide range of BC dairy producers creating amazing cheese and butter. A cheese board can be compiled exclusively with BC brands that rival the best in the world.  It is often said that "what grows together goes together", a simple aphorism that applies to many regional wine and food pairings.
I asked local expert Philip Perseval, owner and cheesemonger at persevalandyoung.ca cheese in Kelowna for his advice on some of the wines I wanted to pair and he agreed on my choices. Philip says:
On Sparkling rose with creamy goat cheese – "Sparkling anything! Bubbles act as a palate cleanser between bites. Goat cheeses are also naturally complimented by fruits such as strawberries. So, if the wine has fruity hints it makes for a great pairing."
Dry Riesling and brie – "Rieslings have high acidity which cuts through the richness of bries and other soft bloomy rind cheeses."
Cabernet Franc and aged gouda – "The moderate tannins and peppery notes of a Cab Franc compliment the sweeter tones (such as butterscotch or toffee) that aged goudas generally have. "
Syrah and creamy blues – "Bold red wines need bold cheeses!"
Making BC cheese is a serious labour of love with passion being the main driver. So many hours go into making every curd not to mention the hours of sterilizing and cleaning to keep the workspace pristine.  Hooray for our local cheesemakers!
On food and wine pairings, BC cheesemaker Shana Miller with Upper Bench Wine and Cheese in Penticton says:
"Being a cheesemaker, I think I am kind of biased – wine and cheese are the perfect pairing. For example, take a bite of my creamy blue cheese and let the smooth, fatty, cheesy goodness coat your mouth then follow that with a sip of our Upper Bench Merlot… wow! The balanced acidity of the wine cuts right through the fat and it is just heavenly.  BC Dairy Farmers are exceptional at what they do and we at Upper Bench are proud supporters of BC Dairy Farmers."
Building a cheese and charcuterie board is so much fun but I know it can be daunting because there are just so many BC cheeses and so many BC wines to choose from. My advice is to start with the basics and proven winning combinations and then have fun and experiment. I love chatting about pairings with friends while sipping and nibbling. This is a perfect winter pastime in wine country. For learn more about pairings, visit WineBC.com or the BC Dairy's pairing page.
Now let's build this board! Cheese and charcuterie may be the stars, but it is what you choose for the rest of the cast that will make it a showstopper. I like to choose a soft cheese, goat, hard cheese and blue for my boards to offer a bit of everything. Same with wines, two whites and two reds and always a bubbly.  Of course, you could always choose some Port and dessert wines as well. We have so many beautiful choices here in BC.
Jen's Holiday BC Wine and BC Cheese Pairings:
Salt Spring Island Goat Cheese
These beautiful packages of Salt Spring Island Cheese are almost too pretty to eat. Each of the eight different flavours are elegantly packaged featuring their flavour component on top. All you need to do with these beauties is plop them onto your board and the topping is already perfectly presented.
Pair with: Unsworth Vineyards Sparkling Charme de l'île Rosé is counterpart to their flagship Charme de l'île sparkling and is crafted from 100% Pinot Noir. Vibrant aromas of cranberry, raspberry on the nose give way to a refreshingly dry palate. It pairs seamlessly with an array of appetizers and can be perfect as an aperitif. Unsworth Vineyards is operated by the Turyk family in beautiful Cowichan Bay on Vancouver Island. A stunning property complete with an amazing restaurant, this is a destination winery.
---
Lady Jane from The Farm House Natural Cheeses
Lady Jane is a cow's milk cheese with a beautiful cheese has a dense, creamy texture encased in a delicate mould-ripened crust, meltingly smooth to the point of decadence.The Farm House Natural Cheeses is located in Agassiz, in the lush Fraser Valley of British Columbia. This small, picture perfect farm is home to Jersey, Guernsey and Brown Swiss cows that provide all the milk used to make their cheese.
Pair with: Quails' Gate Estate Winery Dry Riesling – Made from old vines now more than 30 years old, this classic the 2021 vintage is crisp, dry and refreshing with wonderfully balanced acidity. Aromas of lime, green apple and stone fruit emerge first on the nose, with hints of minerality and white flower. On the palate, the wine is dry, crisp and bright with balanced acidity and flavours of lemon, stone fruit and green apple.Gorgeous and beloved Quails' Gate Estate Winery in West Kelowna is one of our pioneer wineries and offers a world class restaurant to pair with its world class wines and views to die for of Okanagan Lake.
---
Grass Root Dairies Aged Gouda
This is good old-fashioned Gouda and they make it three ways- mild, medium and aged. All of them are creamy, well textured, and range from a mild Gouda flavor to the distinct, hearty taste of their award winning Aged. Aged for at least one year or more, this cheese has an extremely creamy texture and rich flavor. It melts in your mouth. Gort's Gouda Cheese Farm in Salmon Arm was started by the Gort family for over 35 years before the Wikkerink family bought and renamed it Grass Root Dairies. All of their artisan cheese is made from their cows that are fed a 100% grass diet and follow organic principles.
Pair with: Fort Berens Estate Winery Cabernet Franc– Savour notes of dark plums, blackberries, and cassis in this medium-bodied Cabernet Franc. This luscious wine has smooth tannins leading to a velvety soft, fresh finish. Fort Berens Estate Winery is a pioneer in the stunning Lillooet wine region on the Gold Rush Trail. One of the oldest towns in the province, Lillooet is located at the southern tip of the Cariboo Chilcotin region and offers fantastic grape growing climate. Fort Berens winery is part owned and operated by a lovely Dutch couple Rolf de Bruin and Heleen Pannekoek and it is a must visit winery.
---
Upper Bench Moody Cow Blue Cheese
I am obsessed with Shana's melty Grey Baby but am featuring her newer Moody Cow (love the name!) which is a cross between Grey Baby and her classic blue, King Cole. It is a soft with nice blue veining. Upper Bench Winery & Creamery is in Penticton just on the outskirts of the storied Naramata Bench. Here husband and wife, Gavin and Shana Miller produce award-winning wine and cheese. This cheese also pairs well with Upper Bench Merlot, of course!
Pair with: Church & State Merlot
Dark purple ruby appearance in the glass. Initial aromas of dark ripe black fruit, red
currants, and chutney. Young ripe and soft tannins, with high acidity is met by notes of
blueberry coffee crumble & sage. This Merlot finishes with soft tannins. Church & State Wines was originally established on Vancouver Island in 2004 for expanding and building a gorgeous winery on their Oliver-Osoyoos property
I added another blue to the mix…
Poplar Grove Tiger Blue
This classic blue cheese his has some teeth to it and is a favourite for many cheese aficionados. Poplar Grove Cheese is the love child of Gitta Pedersen, a pioneer cheesemaker in our BC cheese world. Rich, slightly salty, Tiger Blue's intense flavour is developed from the blue veining found throughout the cheese. You can visit Poplar Grove's cheese shop and admire the stunning views of the Naramata Bench from Gitta's farmstead location.
Pair with: Moon Curser Vineyards Syrah
One of the pillars of the Moon Curser portfolio, this Syrah is a medium to full-bodied wine, opulent yet focused, with a spine of trademark fresh South Okanagan acidity and is a deep ruby colour in the glass. The highly aromatic nose of dark chocolate, sun-dried tomato, violet and black peppercorns is followed by the palate of round tannins and savoury blackcurrants, cumin, Morello cherries and cinnamon. Overlooking Osoyoos at the very edge of our southern wine country you will find Moon Curser. the winery's focus has always been on making premium wines from old-world grape varieties not previously planted in the Okanagan such as Tannat, Dolcetto and Touriga Nacional. Owners Chris and Beata Tolley offer wine lovers a very special wine experience with award-winning exciting wines.
Now, to bring this all together, visit my 10 steps to preparing a BC Wine and Cheese Charcuterie Board.

---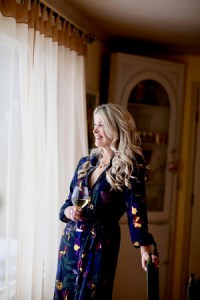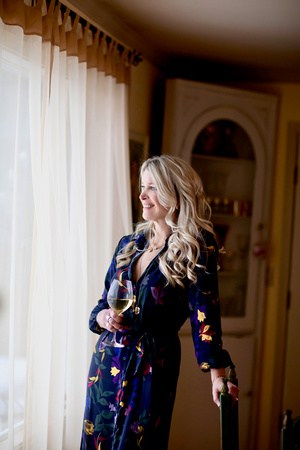 By Jennifer Schell  – Jennifer Schell Lirag is a highly acclaimed, international award-winning food and wine author, photojournalist and champion of BC's local food, wine and farm community. Jennifer's bestselling new book The BC Wine Lover's Cookbook published by Appetite by Random House continues the celebratory theme set in her first three cookbooks, The Butcher, The Baker, The Wine & Cheese Maker, all bestsellers. Born and raised on an apple orchard in East Kelowna Jennifer and her books were the first to spotlight the amazing community of food, drink and farming community in the Okanagan. " Follow her on Instagram at @Jennifer.Schell.8. See more at jenniferschell.com