Pair It Perfectly with BC Wine. Notable Nutritious Chicken Recipes for BC Chicken Month. By Jennifer Schell
September is Chicken Month in BC so let's celebrate our local chicken farmers and their dedication to supplying our communities with nutritious and delicious chicken. This month make a point of choosing fresh chicken from your local grocer to cook at home or order it from your favorite restaurant. Chicken is already a go-to menu choice for many, including children, and luckily and is easy and exceptionally versatile to cook with at home and there are so many chicken recipes to experiment with.
Essentially every international cuisine will offer exciting recipe ideas using chicken allowing cooks to reimagine this staple protein into a wide range of flavour options. Cooking styles range from deep fried to braised, roasted, stewed and, of course, the classic chicken soup which is also a great practice in sustainability using the leftover bones. Chicken and chicken broth also freeze beautifully so there is zero waste option when choosing poultry to feed your family and at the same time stretching your budget.
In my BC Wine Lover's Cookbook, you will find many chicken recipes submitted by our winery families that make for the perfect comfort food. From Chicken Marbella or Chicken Cacciatore to this delicious Portuguese Chicken recipe (visit link), the range of flavours and styles of dishes each offer a unique flavour profile to pair with our stunning repertoire of BC wines. From crisp and joyful sparkling wines too smooth and sexy reds, our BC wineries have everything you could imagine to find the perfect taste match for your chicken dish.
I'll bet a chicken dish is a favourite comfort food family recipe and tradition. For example, in my cookbook I love Florence's Tarragon Chicken recipe from CheckMate winemaker Phil McGahan. Phil grew up in Western Queensland, Australia, as the youngest of 10 children and his parents, Jack and Florence, supported their large brood by raising their own chickens and keeping a quarter-acre vegetable garden. "One of my mom's specialties was this tarragon chicken recipe, made with fresh tarragon picked from my dad's vegetable garden. The licorice character of the tarragon was always a great pairing with the chicken. This dish is deeply connected to the land I grew up on and makes the perfect post-harvest celebration."  Paired with gorgeous CheckMate Chardonnay or other BC Chardonnay, this dish is sure to become a wonderful Okanagan food memory for you.
All hail one dish meals! What is old is new again and one dish/sheet pan meals are all the rage. What can be better than a one dish meal where flavours can meld together while cooking and get super browned by the wide exposure of a shallow roasting pan. This recipe from CedarCreek Winery winemaker Taylor Whelan features Portuguese flavours and gives chicken a gorgeous red colour by using smoked Paprika. Paired with a BC Sauvignon Blanc, this dish is perfect for September to celebrate harvest time in wine country. Enjoy and cheers to our local chicken farmers and local winemakers!
---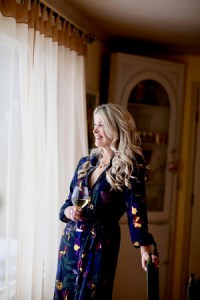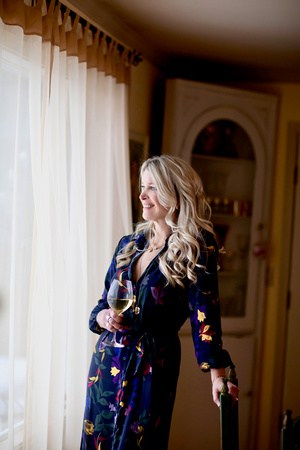 By Jennifer Schell – – Jennifer Schell Lirag is a highly acclaimed, international award-winning food and wine author, photojournalist and champion of BC's local food, wine and farm community. Jennifer's bestselling new book The BC Wine Lover's Cookbook published by Appetite by Random House continues the celebratory theme set in her first three cookbooks, The Butcher, The Baker, The Wine & Cheese Maker, all bestsellers. Born and raised on an apple orchard in East Kelowna Jennifer and her books were the first to spotlight the amazing community of food, drink and farming community in the Okanagan. " Follow her on Instagram at @Jennifer.Schell.8. See more at jenniferschell.com