Perfect Pairings. Nighthawk Vineyards join Jennifer Schell for a Classic Cassoulet Recipe Demo. Plus bonus Orange Cake Dessert recipe with Whipped Cream From BC Dairy.
This warm and inviting cassoulet dish illustrates how British Columbians are truly embracing the best of the new and old world when it comes to their local cooking, recipes and BC wine pairings. For this holiday feature, what made you choose this simple yet elegant dish with a premium BC Chardonnay pairing?
Easy, belly-warming dishes are perfect for this time of year. After a day of snowshoeing or a long frosty walk, coming home to the aromas of a slow-cooked dish are just heavenly. This cassoulet can be made ahead and will happily wait for you in the fridge for a few days.  As Nighthawk Vineyard's Winemaker, Dakota Bibby, points out this dish pairs wonderfully well with a rich Chardonnay as well as a Pinot Noir or a smooth red blend. So very versatile!
Tell us how long this dish usually takes to prepare and what is your favourite local ingredient, and why?
This recipe is actually written for a slow cooker but I don't actually have one, so I used one of my Staub Dutch Ovens! In the Dutch Oven, I let it simmer on low for two hours until the chicken falls off the bones and is ready to shred. I use local ingredients whenever possible and local, BC-based Sterling Springs Chicken is a go-to for the chicken thighs.
What made you select Nighthawk Vineyards and tell us a little more about their premium wines?
The Bibby family are an extraordinary bunch. The entire family is involved in the local wine and food industry – a baker, a chef, a winemaker, a sommelier…they have it all! The small-lot wines that they are creating are fantastic and the winery is a treat to visit. The Bibby's are hands-on with their winemaking, from picking the grapes down to sometimes stomping the grapes with their bare feet like they did with their super small lot Reserve Pinot Noir. Whatever they do, it is always together as a family.
What other BC wines do you recommend exploring and pairing with this dish?
This cassoulet is both food friendly and versatile. Some other BC wine suggestions would be the Lemberger from Larch Hills Winery located in the Shuswap, the Gamay Noir from vinAmité Cellars in Oliver, or even the Bordeaux-style Corner Stone from River Stone Estate Winery also located in Oliver.
The Greek Orange Cake dessert that you share in your recipe (details here) is truly a treat and bonus recipe for us! What BC dairy products would you suggest make for a to-die-for crème fraiche to accompany this delicious orange cake?
I ADORE this cake recipe! Annabel Stanley served this dish to me years ago at a dinner party at her home and I immediately had to have the recipe. It is so unique in texture and the citrus and almond combo is gorgeous any time of year. Like many desserts, a dollop of Avalon Dairy organic whipped cream or  crème fraiche will make it even better.  Crème fraiche is a heavier cream that tastes a bit more like sour cream, and BC dairy has kindly posted a recipe on how to make crème fraiche at home. Locate it here.
Why did you select the Spearhead white Pinot Noir for the dessert pairing? Any other potential BC Pinots that you would suggest complement well this delectable dessert?
Located in East Kelowna, Spearhead's white Pinot Noir is truly unique and special just like this cake, however there are many other amazing BC Pinots that would surely do the trick. Explore some Thompson Valley terroir with Privato Winery's Pinot Noir  located on the Kamloops Wine Trail or try a Pinot Noir from Ancient Hills Winery, a boutique winery located in the beautiful, rural, Ellison area of North Kelowna which boasts lands originally planted to grapes more than 60 years ago.
Lastly, if your palate prefers a little bubbly, try savouring the Pechet Family's Play Estate Winery Moscato Frizzante, and suggest bookmarking this winery for a future visit (when safe to do so following the COVID-19 provincial travel restrictions), as it offers one of Penticton's best views.
Enjoyed these recipes and perfect pairings? Check out more award-winning cooking demonstrations and BC wine premium pairings from International award-winning author Jennifer Schell.
---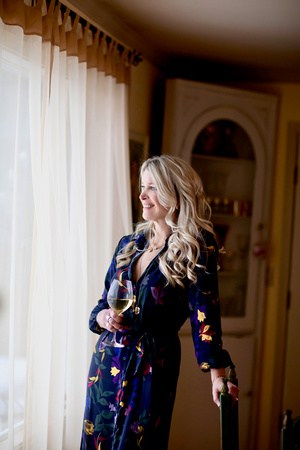 By Jennifer Schell – Jennifer Schell is a highly acclaimed food and wine author, photojournalist and former editor of BC Food & Wine Trails Magazine. Her three cookbooks, The Butcher, The Baker, The Wine & Cheese Maker were bestsellers and have won international awards.  Her fourth book, the B.C. Wine Lover's Cookbook for Appetite by Random House was released this summer. Born and raised on an apple orchard in East Kelowna, Jennifer is a passionate supporter of BC's vibrant farming, food and wine industry and has provided a creative lens inside the valley's landscape and its people for over 15 years.