Ringing in the New Year with BC Sparklers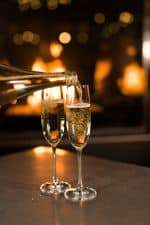 By Michaela Morris – is a wine writer, educator, judge and speaker based in Vancouver. She contributes to a variety of local and international publications such as Taste, Quench, Meininger's Wine Business International and Decanter magazines. Michaela holds the Wine & Spirit Education Trust's (WSET) Diploma, is a Vinitaly International Academy (VIA) Certified Italian Wine Expert and is now pursuing her Master of Wine studies. You can follow Michaela on Instagram and Twitter.
There is a belief that whatever you are doing at midnight on December 31st will influence your activities for the coming year. So choose wisely. For me, drinking bubble is top priority as the clock strikes 12am. It sets the wine tone for all occasions and non-occasions in the year that lies ahead.
You may also be committed to supporting local in 2018. Sparkling wine gives you ample opportunity. Homegrown bubble is on the rise with examples made in diverse methods, sporting a range of our repertoire of grapes and hitting the shelves at a variety of price points.
I am particularly enamored by those crafted using the traditional method. This is where a second fermentation takes place in the very bottle you are drinking from trapping that all important, nose tickling CO2. The wine then ages for months, sometimes years, eventually developing irresistible pastry notes. It's how they do it in Champagne. Kudos to our winemakers for taking this style of wine seriously.
Remember, you don't have to wait until 11:55pm to pop the cork. Here are 4 traditional method sparklers to see you through the before, during, and after celebrations.
2014 Fitzpatrick Family Vineyards, 'Fitz' Brut, British Columbia
Gordon Fitzpatrick's exciting new project places a strong emphasis on sparkling. The 2014 Fitz is predominantly Chardonnay with a touch of Pinot Noir and aged 24 months on the lees. Dry, steely and classy with apple and pear all wrapped up in a baked pie crust. I would savour this with oysters early on New Year's Eve.
2014 Steller's Jay, Mountain Jay Brut, BC VQA Okanagan Valley
In passing from old to new, you might want to check out one of the pioneering traditional method sparklers from BC. Straightforward with white currant, citrus and orchard fruit leading to a soft finish. Steller's Jay is an affordable, recognizable and widely available sparkler that will satisfy a crowd while you are waiting for the ball to drop.
2014 Tantalus, Old Vines, Riesling Brut, BC VQA Okanagan Valley
Made from Tantalus' historical 1978 Riesling plantings, this is all focused lemon and lime with subtle gun flint notes adding intrigue to the creamy mousse. It's just as bracing as the Polar Bear swim. While you might not want to drink anything chilly immediately after, toast your prowess as soon as you warm up.
2011 Sperling Vineyards, Brut Reserve, BC VQA Okanagan Valley
New Year's Day dinner for me is an intimate affair, usually no more than a party of 2 are allowed. And fresh local Dungeness crab is always on the menu. Sperling's Brut Reserve makes for the most elegant pairing. Aged for 5 years on the lees, it is subtly toasty with red currant scone, lemon zest and a thrillingly tangy finish. For more frothy fun, the final two obtain their effervescence through different techniques but are equally crucial to Near Year's activities.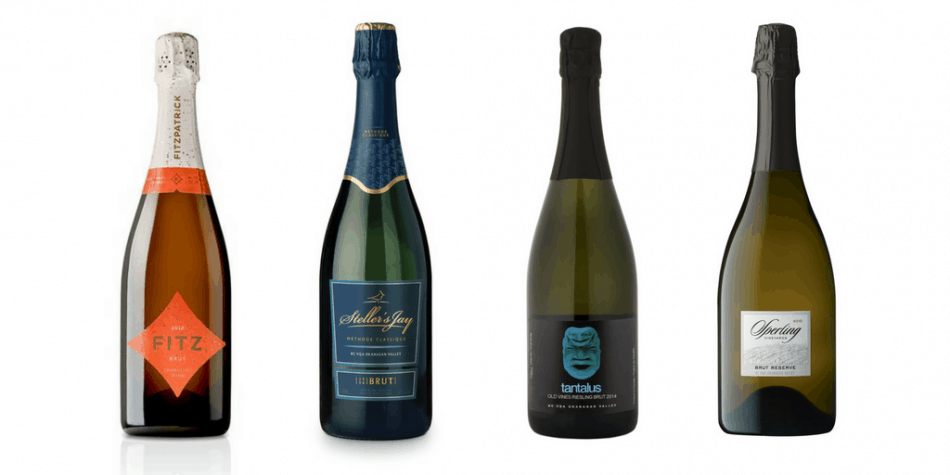 Moscato Frizzante – Orofino Vineyards, Similkameen Valley
Exhibiting an intense bouquet of the most headily scented flowers and fresh ripe peach, this Moscato is carbonated to give its gentle fizz and left with a kiss of sweetness. Its fruit-salad-in-a-glass natures makes it highly appropriate for breakfast.
n/v Unsworth, Charme De L'Ile, Sparkling Wine
'Charme De L'Ile' is a registered name restricted to wines crafted from Vancouver Island grapes. It also refers to the Charmat method, in which bubbles are produced by a second fermentation in large tanks – BC's version of Prosecco. A blend of Pinot Noir, Pinot Gris, and Sauvignette, Unsworth's is a lightweight charmer with reams of Granny Smith apple. The perfect counter to soaking in the hot tub après ski.