Fraiche Table's St. Patrick's Day dinner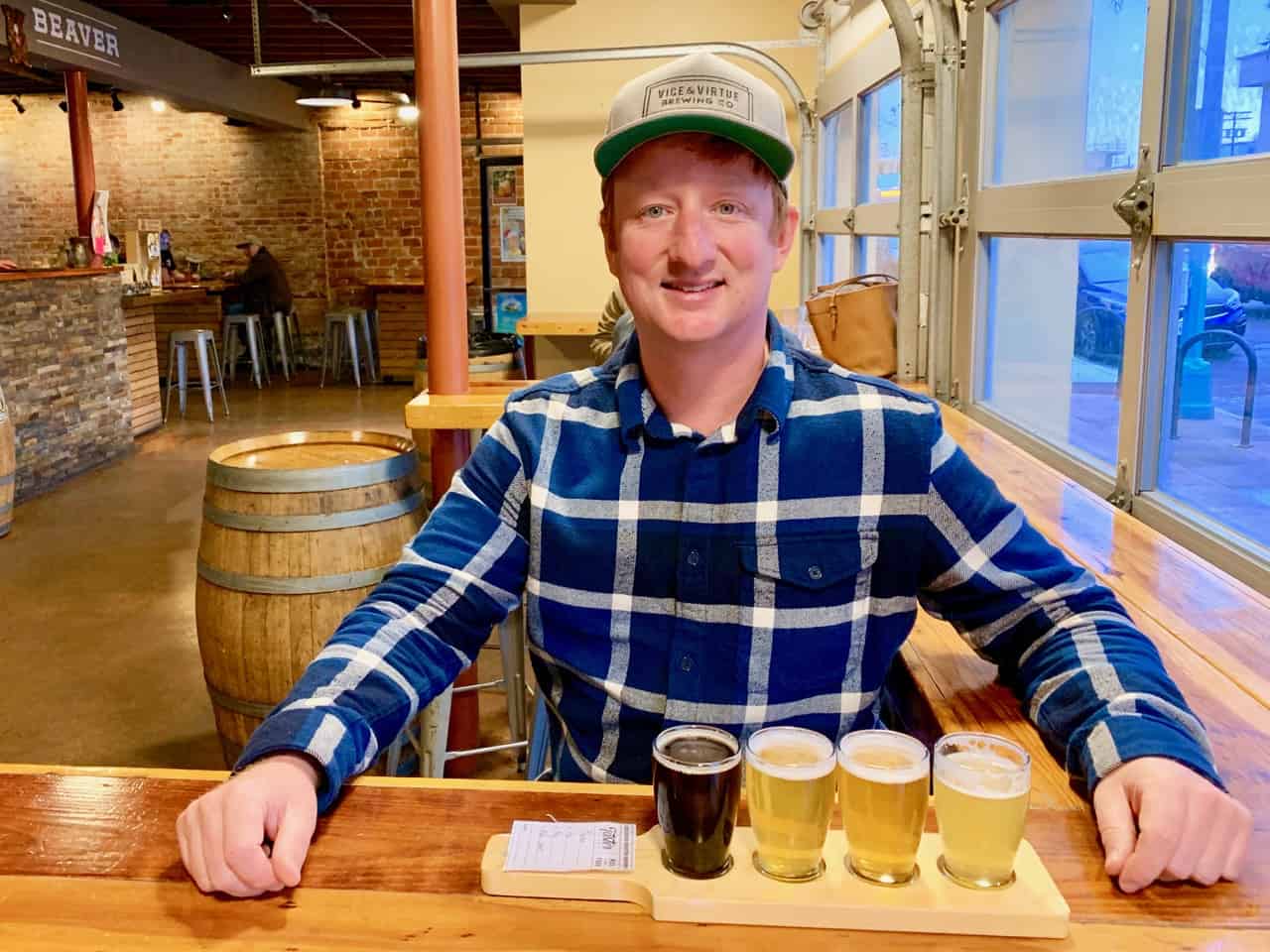 Matt Wentzell is the owner and operator of Experience Wine Tours. He has worked in the Okanagan wine industry for over a decade. He is a diploma level sommelier and has a passion for all things delicious. You can catch him snowboarding, hiking or serving up cold beer at his newest co-venture, Vice & Virtue Brewing Co.
"What are some of the factors that you consider when choosing wines to pair with a meal?" This is a question I get asked all the time by our tour guests. I'll walk you through my thought process while pairing this delicious vegetarian menu by Tori Wesszer from Fraiche Nutrition.
The first rule of wine and food pairing is that there are no rules to wine and food pairing. Wine is a fun, delicious and enjoyable beverage to share with friends and loved ones. There's no room for pretention as far as I'm concerned! That said, there are a few basic principles that you can use as a guide to help you pair wine like the pros.
Wines should have more acidity than the dish they pair with.
Wines should be sweeter than the dish they are paired with
Consider the flavour intensities of both the foods and wines. Light wines with light dishes, bold wines with bold dishes.
I like the wines to be distinctively different from one another over the course of the menu. This way people have the chance to experience a wide variety of different wine styles and flavours throughout the course of the meal. As they say, variety is the spice of life 🙂
Have fun with it…at the end of the day sharing a meal and a glass or two (or three) of wine with friends is really what it's all about!
Veggies and Dips
 I love using light, refreshing wines for a first course. Something easy to drink and that whets the palate for what's to come. Sparkling wines are often a great choice. Plus, who doesn't love being offered a glass of bubbles when they arrive at a party?
Sparkling wines also have an amazing ability to cleanse your palate after each bite.
TIP: BC Sparkling wines are super versatile when it comes to pairing with food. This makes them a bit of a 'secret weapon' when you're asked to bring a wine over to a friend's place and you're not sure what they're cooking.
The Charme de L'Ile from Unsworth Vineyards is going to be a great match for this dish. It has enough acidity and freshness to both cut through the rich, earthy flavours of the white bean and garlic while also not being overpowered by the tanginess of the yoghurt dip. The slight toasty note to the wine will work really well with the tahini in the hummus while the lemon and green apple flavour will work well with the tangy yogurt and herb dip.
Broccoli and Potato Soup
I'm looking for a wine without too much overt fruitiness because those flavours may clash with the vegetal notes of the broccoli. I think the 2016 Coolshanaugh Chardonnay which is made at Okanagan Crush Pad will be a great match for this dish! The light oak treatment and lees stirring of this Chardonnay adds a slight nuttiness to this wine that will pair beautifully with the cashew cream while its acidity will help to refresh the palate and cut through the richness of the soup.
 Lentil and Mushroom Sheppard's Pie
This is a great example of a big, bold, complexly flavoured dish. There's a lot going on flavour wise to consider when selecting a wine to pair. We've got earthy mushrooms, potatoes and lentils, savoury umami notes from the tamari and ketchup and some sweetness coming from the sweet potatoes, corn and peas. It's a dish that really hits a lot of delicious flavour notes! That being said, I want to make sure I pick a wine with enough body and flavour intensity to match this intensely flavoured dish. A light-bodied wine would likely be overpowered by a dish like this.
I really wanted to select a wine that was similarly big and bold in the flavour department while carrying a similar rich and silky texture to the dish. Painted Rock Estate Winery 's Red Icon from the warm 2015 will fit the bill perfectly here. It's got serious flavour intensity with opulent ripe fruit character, savoury tomato and earthy notes to pair with the mushrooms and lentils and silky polished tannins that will be tamed by the richness of the potatoes.
Dessert
This dessert has a silky, rich and unctuous texture coming from the ripe avocadoes, bananas and coconut milk. The richness is balanced by a lovely acidity coming from the lime juice and a sweet, floral component from the honey. One of the only 'rules' I try to follow when thinking of dessert wine pairings is to make sure the wine is sweeter than the dish I'm pairing it with.
If the food is sweeter than the wine it can often make the wine taste bitter.
No wine in BC is as opulent and luscious as our Icewines. Riesling may be the grape best suited to Icewine because of its naturally high acidity. What I look for in a good Icewine is a lovely balance between sweetness, powerful fruit character, and acidity. Jackson Triggs Okanagan is wine hits all of those notes. It's almost tropical, with apricot, lime and honeyed characteristics. The tropical notes in the wine will work wonderfully with the coconut milk and lime zest, while the opulent sweetness and texture will definitely not be overpowered by this decadent (but still healthy!) dessert.
For Tori's full St. Patrick's Day menu, recipes and table setting tips visit Fraichenutrition.com – Fraiche Table's St. Patrick's Day dinner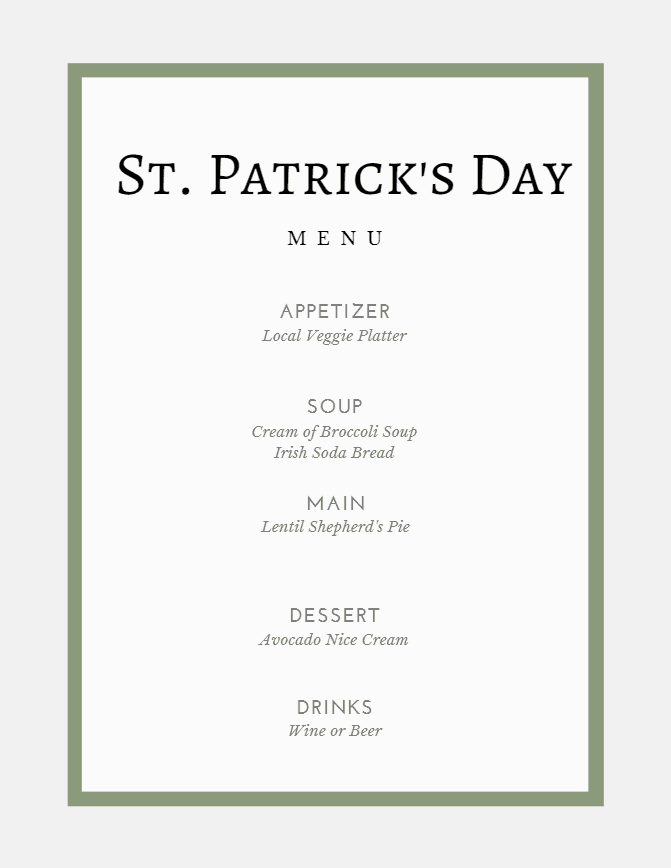 St. Patrick's Day Menu:
– Local Veggie Platter  (with homemade dips)
– Potato Broccoli Soup  (with shamrock croutons and Irish Soda Bread)
– Lentil Shepherd's Pie  – note, Tori will be making this with the sweet potato layer
– Avocado Lime Coconut Ice Cream