As a wine lover, there are few things better than pulling a bottle out of the cellar, opening it up, pouring a splash and smelling perfection in the glass. Reaping the rewards of a bottle well held for whatever the occasion; a birthday, a holiday celebration or just making it to Friday night. Or perhaps you already have some bottles stashed away but want to get a friend's cellar started? Giving that bottle with the knowledge that it could be saved and opened years down the road at just the right moment is a pretty special gift indeed.
What makes a wine able to stand up to the test of time? It almost goes without saying, but you need a wine of sufficient quality. Tannins and acidity are key contributing factors for aging potential. Tannins are a highly complex group of molecules that exist naturally in the skins of grapes that provide the colour and structure in a wine, that feeling of astringency or chalkiness on your tongue after taking a sip from your glass. Over long periods of time in bottle, the tannins in the wine evolve, resulting in a softer, more elegant wine. Aromas in the wine change as its ages as well, with more earth, leather and tobacco aromas replacing the more primary fruity aromas that a red wine will have in its youth.
In white wines, you might find more nutty, smoky and honeyed aromas as a wine develops. Tannins are less of a factor in white wines, but good acidity is what can really help a white wine age gracefully, sometimes with a longer life than red wine! British Columbia's wine growing regions have a major advantage when it comes to maintaining acidity in wine, a big diurnal shift in temperature. The days are warm but once the sun sets or goes behind the mountains to the west, the evenings get quite cool. This shift in temperature helps to preserve the natural acidity in grapes leaving the wines with terrific acidity levels for aging.
In British Columbia, I think there is tremendous potential for aging wines, both white and red. The trademark acidity gives white and red wines an electric liveliness that helps a wine age well. Personally, I find this more apparent in grapes with a tendency towards brightness already: Riesling and Chardonnay for white wines and Pinot Noir, Syrah and Cabernet Franc for red wines.
I have been fortunate enough to have tasted some excellent examples of BC wines that have been aged up to twenty years with remarkable results. Yes, you should probably consider proper storage for bottles that you plan on keeping that long. A consistently cool, dark place where you can rest bottles on their side is your best bet. A windowsill or the top of your fridge is not going to be kind to your wine.
Below are some of my current favourites for BC wines that can age for up to 10 years, some perhaps even longer:
Orofino Hendsbee Vineyard Riesling 2019
From the lovely John and Virginia Weber in Cawston in the spectacular Similkameen Valley, the Hendsbee Vineyard Riesling from Orofino is one of my perpetual top picks for an unbelievably good value wine to age. I've been fortunate enough to try just about every vintage of this wine at various stages in its development, from just released to more than twelve years old and it has always been outstanding. I still don't think that's old enough to see the potential of just how long lived this wine is.  A powerhouse of lime zest acidity and slate. Learn more about this BC wine in the Wines of BC Explorer App.
Kitsch Esther's Block Riesling 2019
Named for the Kitsch family's matriarch, the Esther's Block Riesling has cropped up in my tastings several times blind and every single time I am impressed. This East Kelowna wine has a beautiful balance of vibrant meyer lemon fruit and electricity that sings. According to Kitsch, this wine can age until 2035 and I wouldn't deny that at all. It can probably go even further. Learn more about this BC wine in the Wines of BC Explorer App.
Sperling Old Vines Riesling 2017
A fourth generation farm established in 1925 led by Ann Sperling in East Kelowna. This is some of the best vineyard land in the province and the Sperling flagship Riesling shows us why. Textural and balanced with a lovely green apple and citrus intensity and a lovely crisp backbone of acidity. My notes from a recent tasting of some back vintages of this wine have the words "still so fresh" beside the 2009 bottling of the same wine. Sperling releases this wine after two years in their own cellars, so you get a bit of a head start on the aging here. The Old Vines have a very long life ahead of them. Learn more about this BC wine in the Wines of BC Explorer App.
A perennial favourite in my house, Tantalus is making terrific wines at the hands of winemaker David Paterson. Their Chardonnay has a great flinty mineral streak that is balanced with a measured touch of oak. Bone dry and lean, this wine has focus and precision, a characteristic that I find can propel a wine for years. If you see their Old Vines Riesling, pick some of that up for the cellar too. Learn more about this BC wine in the Wines of BC Explorer App.
Quails' Gate Stewart Family Reserve Pinot Noir 2019
The venerable Quails' Gate in West Kelowna makes this Pinot Noir as their flagship red wine. Some of the vines were planted in the 1970s. Upon release, the wine is fruit driven with crunchy red cherry and raspberry and firm, fine tannins. The wine develops beautifully over the first decade. The 2014, tasted recently was showing more underbrush and earthy aromas already with tannins that are starting to soften. This is a terrific example of a classic, top of the class BC Pinot Noir that any wine lover would love to have in their cellar. Learn more about this BC wine in the Wines of BC Explorer App.
Meyer Family Vineyards McLean Creek Road Pinot Noir 2019
From a little further south in Okanagan Falls this is an herbaceous, brooding Pinot Noir from the family owned vineyard site. This impressed in a blind tasting against other Pinot Noirs from around the world with chalky tannins and a lively ripe cherry character that was a joy. I would love to see how this wine evolves over 10-15 years. Buy a case. Experiment and see and let me know the results or share a bottle with me in 2035! Learn more about this BC wine in the Wines of BC Explorer App.
Le Vieux Pin Cuvée Violette Syrah 2019
Le Vieux Pin has been making beautiful, serious Syrah since 2005. Winemaker Severine Pinte has a terrific touch with this grape, and though they have their flagship Équinoxe Syrah (buy that one when you really need to impress your host), I love the floral, elegant balance of the Violette. All purple flowers, blackberry and black pepper, this wine will age easily for another decade. I really do believe Syrah is where the future lies for our warmer southern vineyards. Learn more about this BC wine in the Wines of BC Explorer App.
This is almost cheating to mention this wine, but as proof that BC wine has an incredible potential, and as a shortcut to tasting aged wine without waiting for your own bottles to mature, I offer the Cipes Ariel 2000 vintage. This is a traditional method sparkling wine from the Summerhill estate in South Kelowna with the classic grapes of Pinot Noir, Chardonnay and Meunier. Summerhill lays these bottles down for 17.5 years on the lees before disgorging and releasing to the public. The wine is confident and mature with an incredible lemon curd on brioche complexity, honeyed almond and apricot on the palate. I imagine this wine could age for longer too if you felt the need, but I'd say enjoy it now and start planning the rest of your cellar! Learn more about this BC wine in the Wines of BC Explorer App.
Visit Peter's list of BC wines that cellar well on the Wines of BC explorer App.
---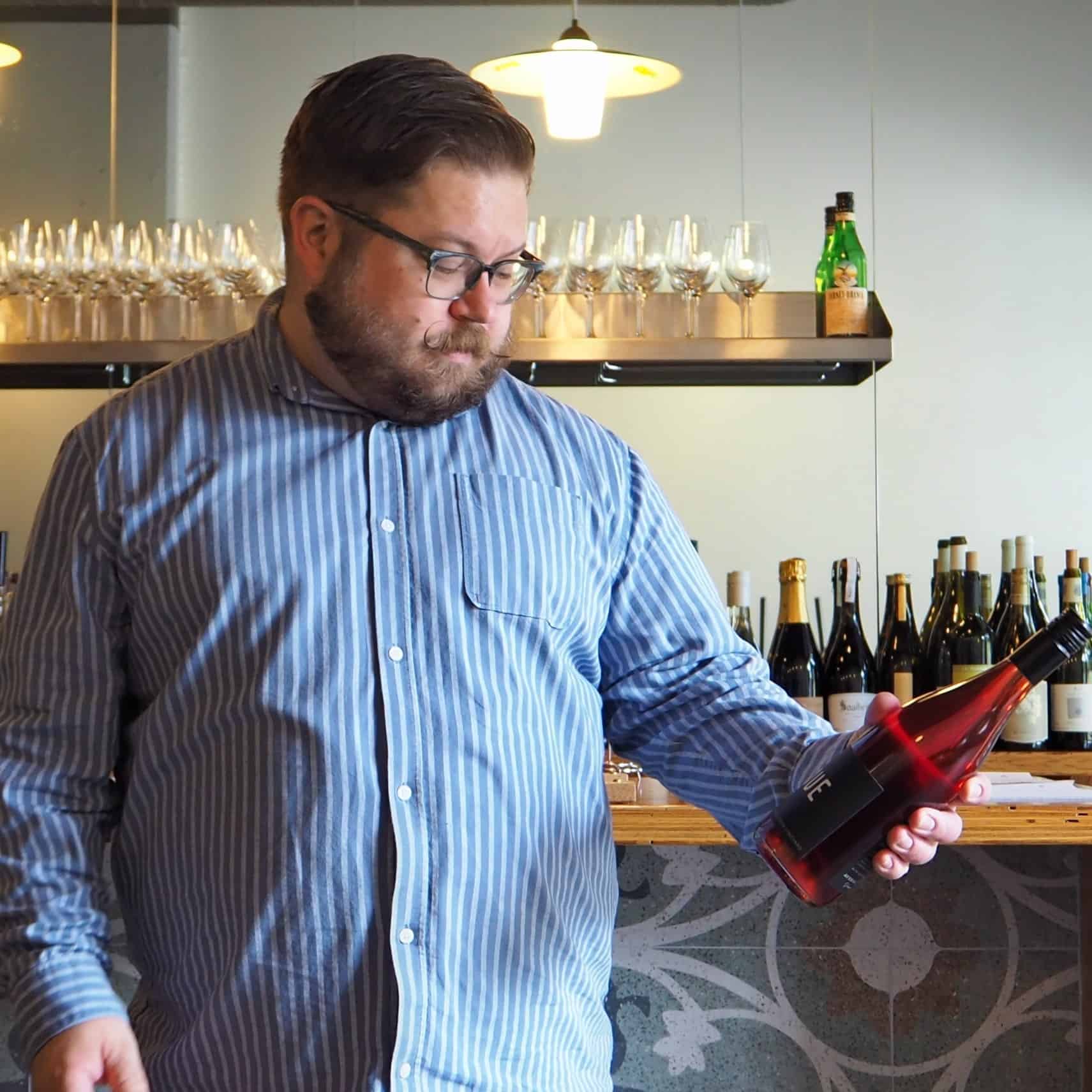 By Peter Van de Reep – Peter Van de Reep is a sommelier and restaurant manager in Vancouver. An academic at heart, Peter translated his background in geology to an award winning career in wine and spirits. He is the 2020 Canadian Association of Professional Sommeliers BC Sommelier of the Year and is currently preparing to challenge the Court of Master Sommeliers Advanced Examination in 2022. He is easily plied with riesling, amaro and bubbles and can often be found with his coffee cup in hand. At work, he runs Bar Gobo in Vancouver's historic Chinatown and eventually will start writing more at petervan.ca