Quality BC Wines Pair Perfectly With BC Chicken Recipes
September is BC Chicken Month and it is prime time for cooking. Local fall veggies are in season and the variation in weather from warm days to cooler evenings means we can enjoy both the barbecue and the kitchen for some slow cooking time. This seasonal menu shift is all about comfort food and BC chicken dishes rank high in this category. Especially because of its amazing versatility, chicken can easily be transformed into delicious dishes for every mood and every season. And no surprise BC chicken pairs incredibly well with local wines from British Columbia.
Fall is harvest time in wine country and the busiest season of the year. The vines are now hanging lush with bundles of grapes and the harvest season has officially begun. It's 'all hands-on deck' time for our BC winery families with long days ahead so planning easy but nutritious, hearty meals is the goal. In my BC Wine Lover's Cookbook, you will find many chicken recipes submitted by our winery families that make for the perfect comfort food. For example, Janice's Chicken Marbella recipe from Meyer Family Vineyards is a wonderful make ahead dish and Taylor Whelan at CedarCreek's spicy Portuguese Chicken will warm your bellies. All of the recipes have wine pairings, of course, offering readers a delicious tasting tour of our food and wine culture in BC.
Chicken Paprikash has become one of our own family favourites. It is an easy one pot meal with few ingredients. The key to this classic Hungarian dish is, you guessed it, paprika. There is so much more to this staple red spice– it is so not just to sprinkle on top of devilled eggs! Paprika in its simplest form is made from grinding sweet pepper pods to create the iconic bright red powder. But depending on the variety of paprika, the colour can range from a bright orange red to a deep blood red and the flavor can be anything from sweet and mild to bitter and hot. There is Hungarian and Spanish paprika, sweet, hot and smoked, an entire new world of flavours is waiting for you. Make sure that you seek out the best quality. I buy the authentic Pride of Szeged Sweet Hungarian Style Paprika brand and for smoked, I always have a tin of each La Chinata hot and sweet.
Make sure to make the buttered egg noodles to serve with this dish to soak up the sauce.
Wine Pairings: Chicken Paprikash pairs well with white or red wine. For white, I would go with Gruner Veltliner from Peak Cellars in Lake Country or Zweigelt from Upper Bench Winery & Creamery in Naramata. The Gruner is higher acidity and crisp and will cut through the rich sauce. Zweigelt is a food friendly red that easy and wonderful with tomato-y sauces.
Other delicious BC chicken recipes and pairings to make this month:
BC Mojo Chicken with Fennel and Orange Slaw
1. Lightning Rock Winery 2019 Chardonnay
2. Fitzpatrick Family Vineyards 2017 Fitz Brut – Fresh & crisp, the bubbles will work wonderfully with the citrus-y flavours of the mojo.
3. TIME Family of Wines – 2020 Chronos Sauvignon Blanc – Sauvignon Blanc pairs so well with summer and this new label for TIME offers tropical nose and zesty citrus and pineapple flavours to join the party on your palate.
BC Chicken Thighs with BC Blueberry Glaze
1. Orofino Vineyards 2020 Gamay
2. Spearhead Winery 2017 Pinot Noir Coyote Vineyard with berries and spice and everything nice will kick this dish up a notch.
3. Fort Berens Estate Winery 2018 Cabernet Franc Reserve offers up glorious blueberry and floral notes making it a lovely duet with this chicken dish.
BC Cranberry Stuffed Chicken
1. Stag's Hollow Winery & Vineyard 2020 Rosé
2. Little Farm Winery 2020 Mariposa Vineyard Rosé is a beautiful savoury style Rosé that has a gorgeous richness to offer food pairings.
3. Blue Grouse Estate Winery Quill 2018 Pinot Noir is a lovely choice to serve with the cranberry chicken. Keep this island beauty in mind for Thanksgiving turkey too.
BC Pulled Chicken and Spicy Tomato Salad
1. Moraine Estate Winery 2019 Reserve Riesling
2. Roche Wines Texture Arôme 2020 is just the thing to cool the spice on your palate with this dish offering huge aromatics and tropical fruit exploding from the Schonberger grape (a wonderful Pinot Noir/muscat/chasselas cross).
3. 8th Generation Vineyard 2020 Confidence is zingy and fresh. A blend of Pinot Gris, with a touch of Pinot Meunier, and Syrah serves up a melange of flavours including berries and grapefruit that make this a crazy versatile food wine.
Subscribe to the VINE newsletter to learn more about BC Chicken Month and delicious local recipes with premium BC wine perfect pairings.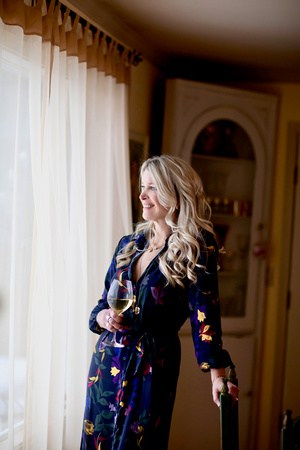 By Jennifer Schell – Jennifer Schell is a highly acclaimed food and wine author, photojournalist and former editor of BC Food & Wine Trails Magazine. Her three cookbooks, The Butcher, The Baker, The Wine & Cheese Maker were bestsellers and have won international awards.  Her fourth book, the B.C. Wine Lover's Cookbook for Appetite by Random House was released this summer. Born and raised on an apple orchard in East Kelowna, Jennifer is a passionate supporter of BC's vibrant farming, food and wine industry and has provided a creative lens inside the valley's landscape and its people for over 15 years.