BC Wineries Coming Together to Support Wildfire Affected Communities. By Jennifer Schell

We are all so grateful for the heroic efforts of our amazing firefighters and first responders who have kept us safe through the wildfires experienced in regions across this province this  summer. Hooray for them! Thanks to them, we are open for business and welcome visitors to our spectacular fall harvest season.
Let's raise a glass to the many individuals in our communities who united to support our firefighters and those in need behind the scenes. Among them, there are stories of the generous efforts of the people in our wine and food industry, coming together in the face of such adversity to help.
With so many people evacuated on short notice with nowhere to go, the gracious hospitality of our wine and food community shone bright. Some fed, some organized donation drives, some offered shelter and some even raised money for our local pets and wildfire.
From across all our wine regions, wineries were pitching in. Tantalus Vineyards was one of the first to begin organizing a donation drive to local Mamas for Mamas assisting wildfire evacuees with essentials. Tantalus went on to pledge $1 from every bottle sold from their online or in person store to Red Cross Canada and Mamas for Mamas.
Bravo to the Stewart family at Quails' Gate Estate Winery who mobilized their restaurant kitchen staff to cook upwards of 300 meals a day for support staff in coordination with emergency relief coordination!
Orofino Winery in the Similkameen went the extra mile and decided to donate a significant portion of The Riesling Project dinner hosted at their winery with event partners: Chef Angus An, Tantalus Winery, Maenam Restaurant, and Kurtis Kolt. They pulled together a donation of over $2000 to go towards BC Wildfire Relief.
There were offers of a safe haven at Haywire Winery not only just for space and internet access in their tasting room, but also put a call out to anyone evacuated with an RV offering free camping spaces with electrical hookups at their Garnet Valley Ranch Winery. On top of that, they donated 20% of all net sales from a wine feature with I Love Okanagan Wines to wildfire relief in BC through the United Way.
Kudos to Howling Bluff Winery in Naramata for supporting our beloved pets and local wildlife. They announced that they would be donating $10.00 to ALERT (Animal Lifeline Emergency Response Team) for every online purchase made until September 1st.
Intrigue Wines in Lake Country organized donations to organizations and individuals affected by the wildfires by setting up a drop off location for necessities.
Others were busy fundraising for the Red Cross and other charities by donating a portion of their wine sales and encouraging people to support local businesses. Community minded announcements from our wineries rang out on social media sharing individual fundraising efforts:
Stag's Hollow Winery in OK Falls: "Tastings will be by donation for the rest of the month (no reservation necessary) with proceeds benefitting the Canadian Red Cross."
Painted Rock Winery in Penticton: "We will be donating $1 for every bottle sold in the Tasting Room until the end of the month to @redcrosscanada and their wildfire relief efforts to support Canadians impacted by this record-breaking wildfire season."
Monte Creek Winery in Kamloops: "From now until September 30th, $1 from every bottle of our Hands Up Red and Hands Up White purchased will go to the @kamloopsfoodbank."
1 Mill Road Winery in Naramata: "Effective immediately, and until August 31, $5.00 from each bottle of 1 Mill Road purchased online will be donated to the Canadian Red Cross British Columbia Fire Appeal."
Township 7 Winery in Penticton: "In support of our community during this time, we will be donating $1 for every bottle sold in the tasting room and online until September 7, 2023, to the United for BC Wildfire Recovery Fund."
Blasted Church Winery in OK Falls: "Friday, Sept. 8th to Sunday, Sept. 10th we will be donating 100% of our tasting fees to the Red Cross."
Bravo to all of these wineries and those that are not mentioned above that proved yet again the goodness of our community spirit and that humans by nature will spontaneously band together in collectives to help one another in times of need.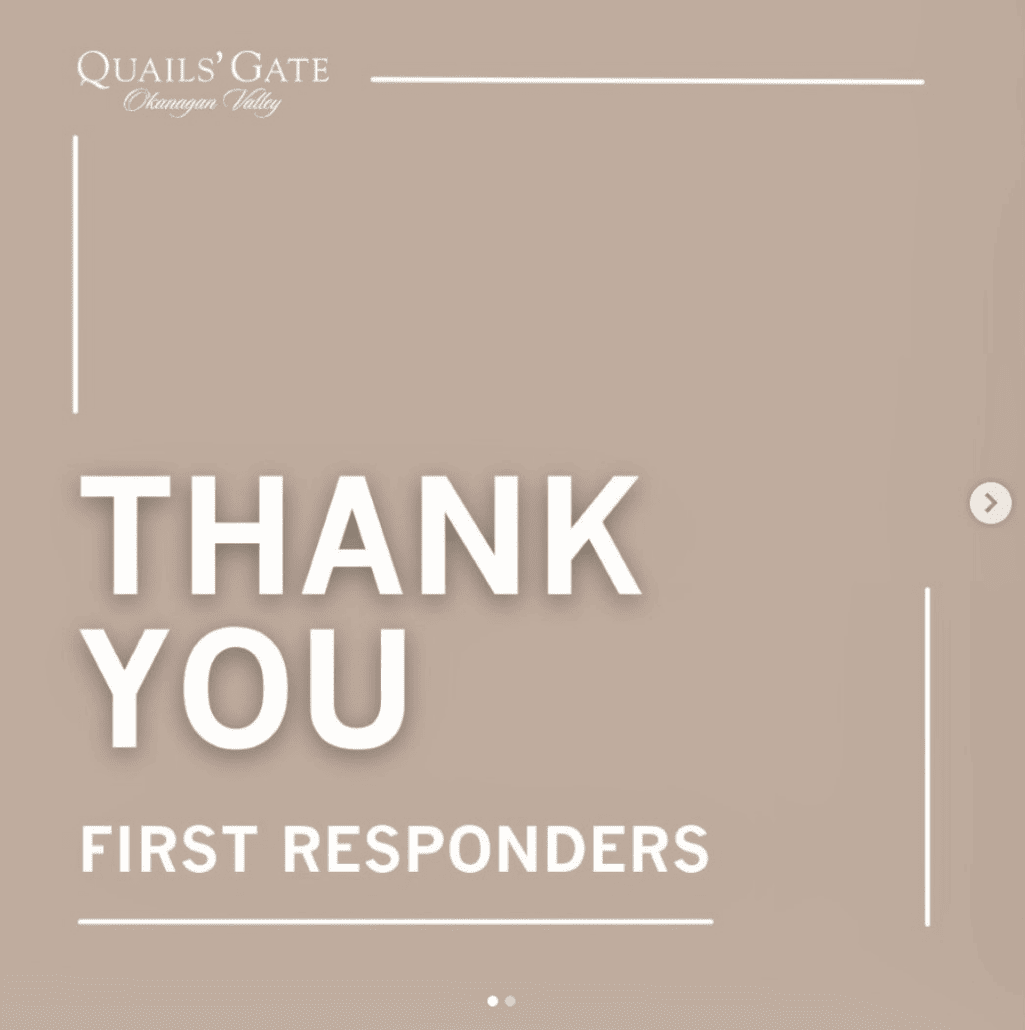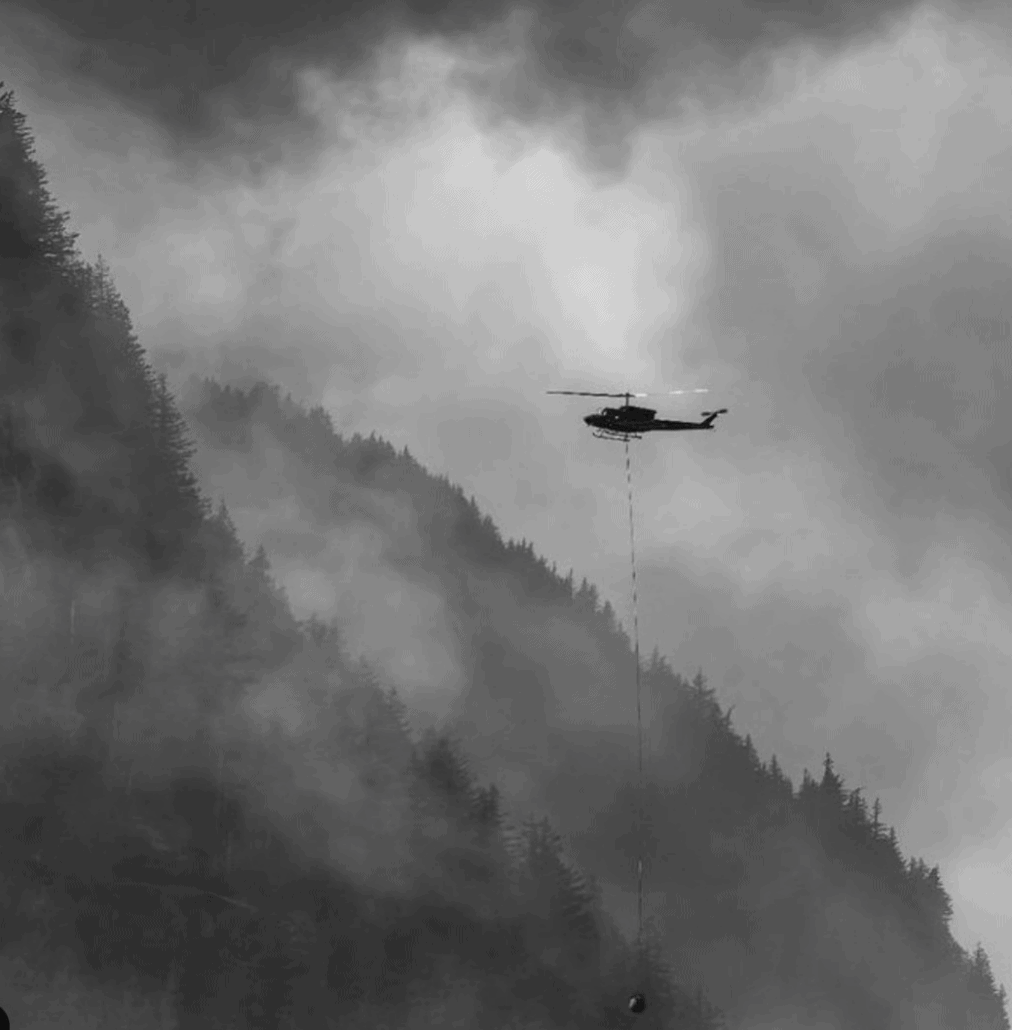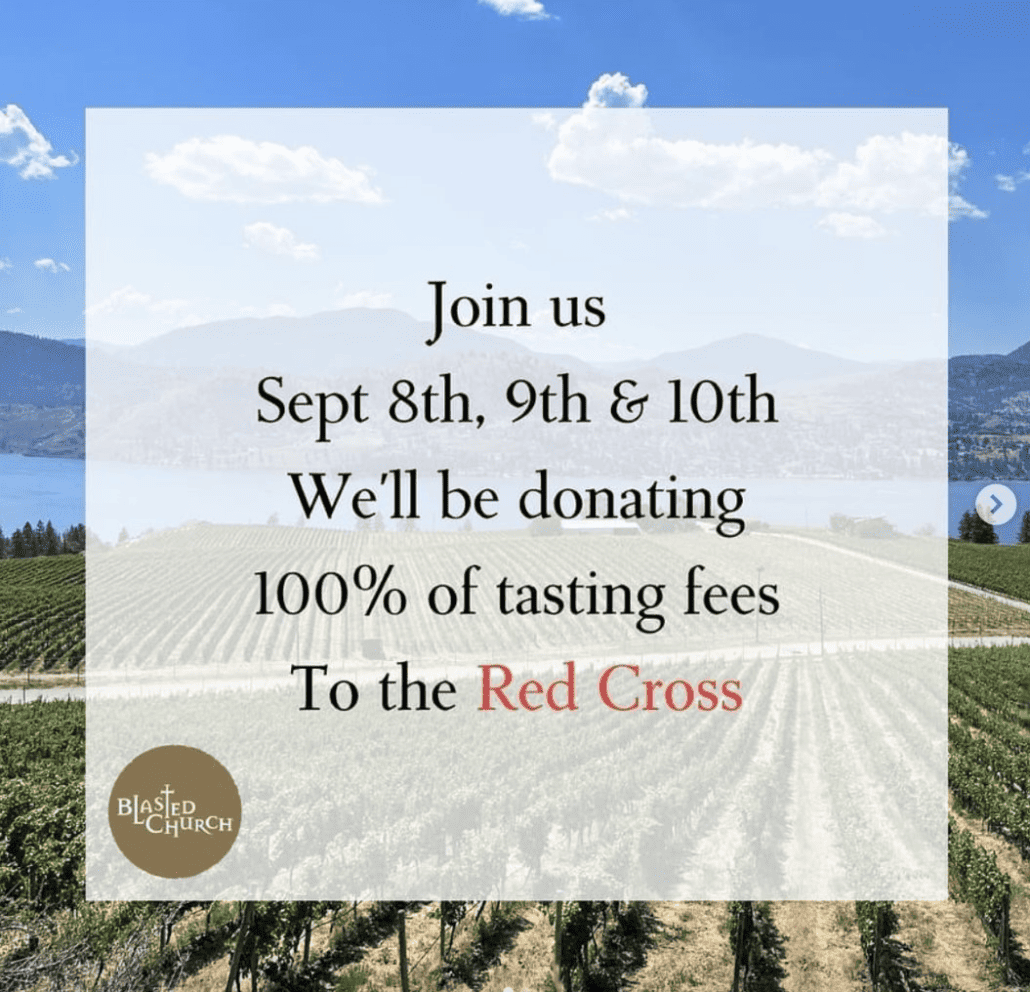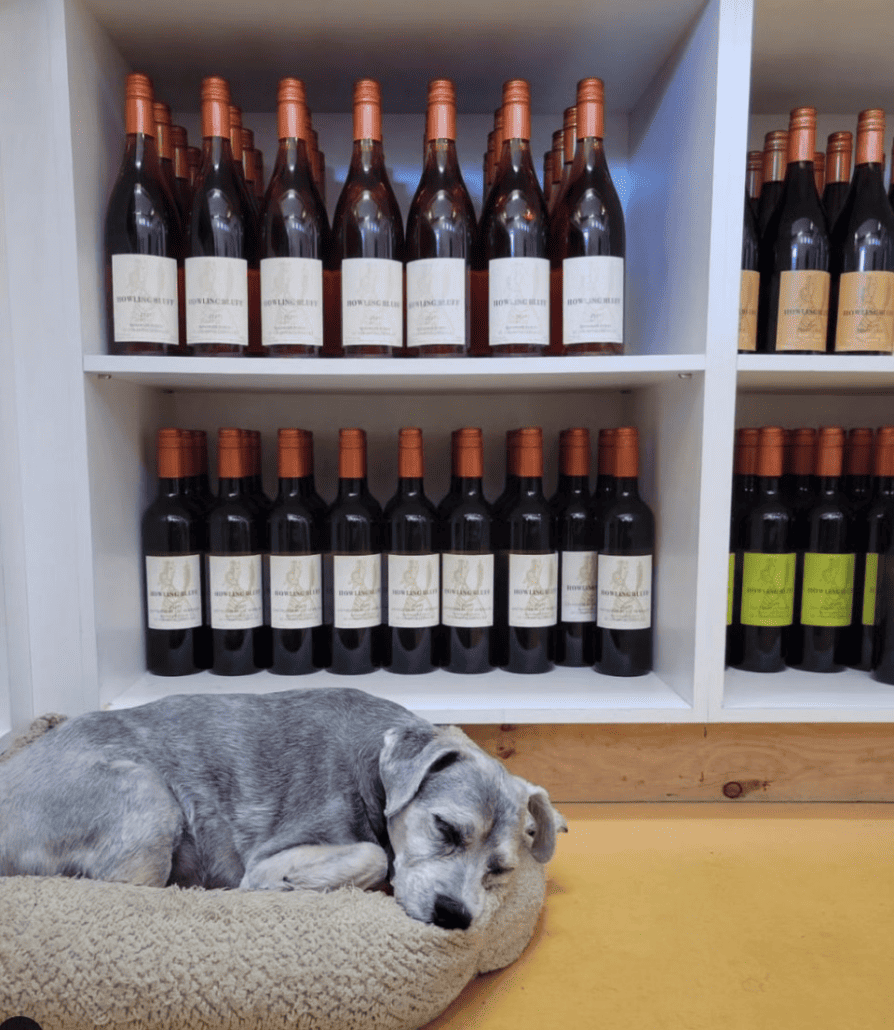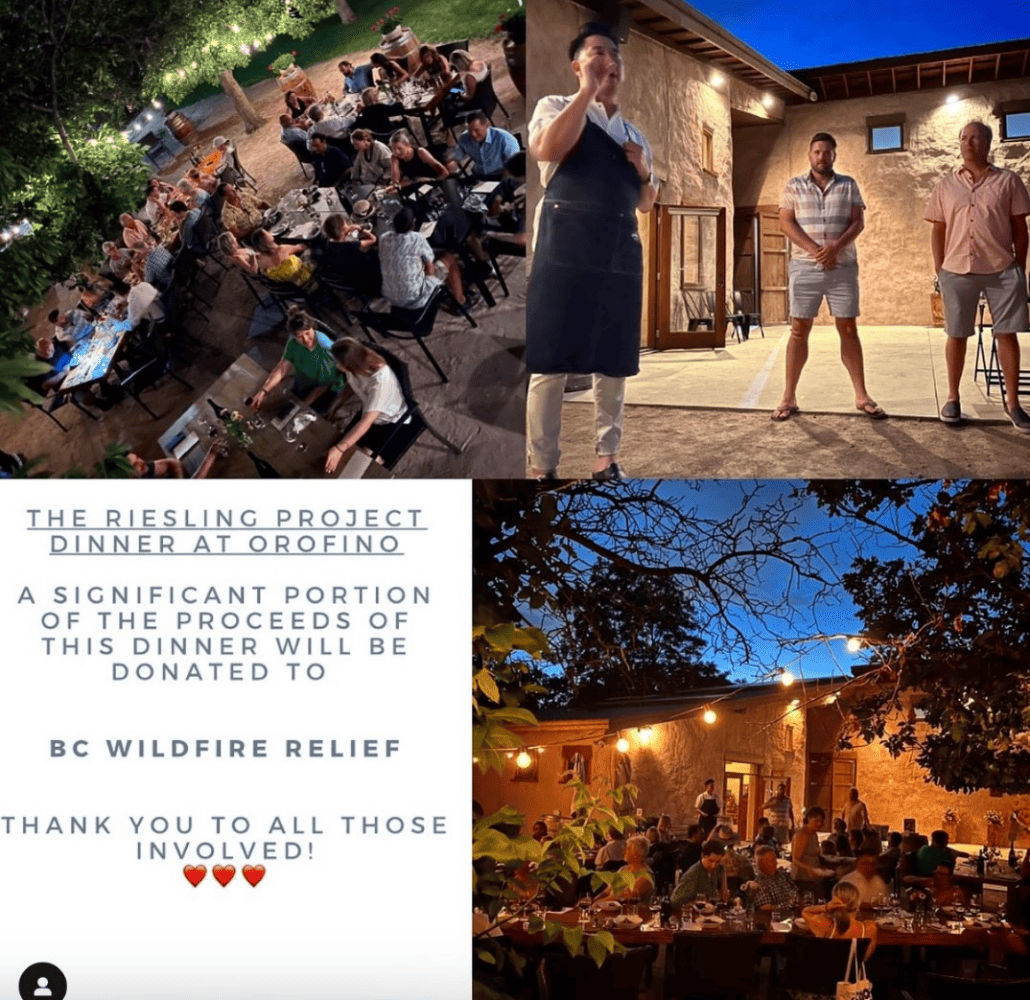 Here are some delicious ways that you can help the community:
Sip Local. Support Local. With many small businesses and wineries being directly impacted by the fires, it is more important than ever to buy local at this time. A few ways to support your favourite producers:
Choose local when shopping your local liquor store – whether BC Liquor Stores, Save-On- Foods or wine shop, they all have an amazing selection of BC VQA wine to choose from
Buy online and get premium BC VQA wine delivered direct to your door
Choose 1-2 wineries and sign-up for their wine clubs. Not only will you get their amazing club benefits, you'll receive shipments multiple times a year to keep that support going.
Donate to Wildfire Relief Efforts:
The Canadian Red Cross
Mamas for Mamas United Way
Central Okanagan Food Bank
---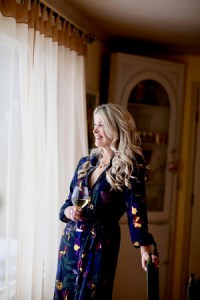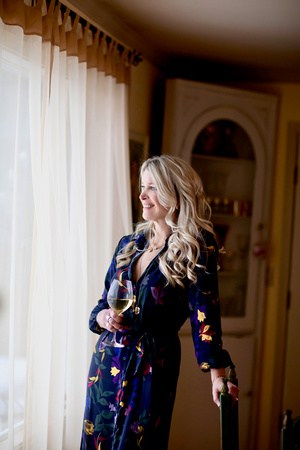 By Jennifer Schell  – Jennifer Schell Lirag is a highly acclaimed, international award-winning food and wine author, photojournalist and champion of BC's local food, wine and farm community. Jennifer's bestselling new book The BC Wine Lover's Cookbook published by Appetite by Random House continues the celebratory theme set in her first three cookbooks, The Butcher, The Baker, The Wine & Cheese Maker, all bestsellers. Born and raised on an apple orchard in East Kelowna Jennifer and her books were the first to spotlight the amazing community of food, drink and farming community in the Okanagan. " Follow her on Instagram at @Jennifer.Schell.8. See more at jenniferschell.com