BC Wine Industry celebrates the success of BC Wine Month with BC Wine sales at an all-time high
For Immediate Release:
June 18, 2018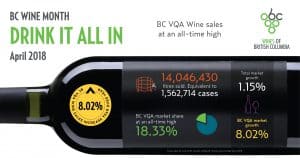 BRITISH COLUMBIA – Today BC's Wine Industry reflects on the extraordinary success of BC Wine Month, with BC Wine sales reaching an all-time high in April.
On March 13, the government proclaimed April as British Columbia's official province-wide wine month encouraging British Columbians to discover, share and choose 100 per cent BC wines.
The BC Wine Institute reports BC VQA Wine sales were up eight per cent over this time last year, reaching an all-time high of 18.3 per cent in total provincial market share for the rolling twelve-month period ended April.
"It's tremendous to see the local support we have. These results far exceeded our expectations." said Mile Prodan, President & CEO of the BC Wine Institute. "Really, it's about enjoying what's in the glass, and that represents 100 per cent BC."
Through a partnership between the BC Wine Institute, Ministry of Agriculture and Destination BC, BC Wine Month offered an opportunity for British Columbians to show their local support and experience the quality and diversity of BC's world-class wine products during a month-long celebration of wine events, tastings and learning.
"BC Wine Month was a great success in introducing and reminding British Columbians of the diverse and rewarding local options available, and how well they pair with BC food," said Minister of Agriculture Lana Popham. "I encourage all wine appreciators to keep the momentum growing, and continue to enjoy and support the excellent vineyards and winemakers we have in our province. Nothing tastes better than when you Buy BC!"
As covered on Global TV, highlights from BC Wine Month included iconic BC winemakers and chefs teaming up for unique events throughout the month, including a sold-out Chef Meets BC Grape event in Vancouver with proceeds going to the BC Hospitality Foundation; multi-course BC wine-paired dinners at the wineries; and sommelier-led BC wine and food pairing events in 17 Save-On-Foods BC VQA Wine store locations across the province. The Wines of British Columbia digital campaign drew 19,000 contest entrants and 31 winners to discover BC Wine Country, with traffic to WineBC.com up 260 per cent over last year.
In addition, 12 BC Wine Ambassador education sessions were held throughout the province reaching more than 500 trade and industry participants, and 120 BC Liquor Stores featured exclusive BC VQA Wines on their shelves. "The support from industry and trade has been extraordinary," added Prodan.
On April 24, Ministers, MLAs and members of the Press Gallery gathered to celebrate BC Wine Month and vote on the first annual Speakers Choice wine in the categories of BC red table wine and BC white table wine. The 2013 Invictus from Perseus Winery was the winning red wine and Upper Bench Winery Riesling won the white wine category. These two wines will become the first BC Speakers Choice wines for 2018.
While the province-wide official BC Wine Month may be over, the 2018 wine touring season is well on its way, with reports indicating the hottest May on record in Summerland and Osoyoos. 253 wineries are now open to the public offering unique winery experiences, including dinners in the vineyards, winery picnics, yoga on the terrace, farm-to-table wine and food tastings, ATV tours, concert series and more.
"I'm so glad to hear British Columbians and visitors engaged in BC Wine Month and made it such a big success," said Lisa Beare, Minister of Tourism, Arts and Culture. "The quality and popularity of BC wines are putting our province on the destination lists of culinary tourism enthusiasts around the world – and this is great news for all BC tourism operators and the people who work for them. I'd like to toast everyone involved in BC Wine Month – from Destination BC to the hard-working people who staff the vineyards – well done."
Winery goers can now plan their trips to BC Wine Country using the online Wines of British Columbia Trip Planner and app, that lets you plan personalized itineraries to explore the character of all BC wine regions. Start planning your visit to BC Wine Country – where every month is BC Wine Month!
Visit the online Wines of British Columbia Trip Planner or download the app by searching "BC Wine" in either the App Store or Google Play store or click the links directly for: Android or iPhone.
Quick facts about the BC Wine Industry:
BC is home to 929 vineyards, including more than 350 licensed wineries
There are more than 10,200 acres (4,130 hectares) of wine grapes planted in British Columbia
BC's grape wine industry has grown from just 17 grape wineries in 1990 to more than 275 today
BC's wine industry employs about 12,000 people and has an economic impact of $2.8 billion annually
Each year, BC's wineries welcome more than 1,000,000 visitors
Wines of British Columbia online Trip Planner and app lets you plan personalized itineraries to explore the character of all BC wine regions
– END –